Nashville, TN -- Crowd favorites Lorraine Jordan & Carolina Road continue to bring their hard-driving bluegrass sound to audiences nationwide with their new music video for "Common Man," featuring Grand Ole Opry star John Conlee, debuting exclusively on The Boot. "Common Man" is available now through digital retailers on Lorraine Jordan & Carolina Road's latest album, Country Grass.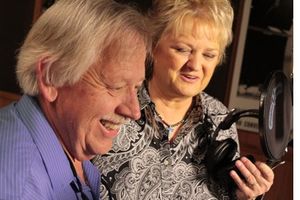 After topping the Billboard country charts in 1983, "Common Man," originally recorded by Conlee, takes on new life by the bluegrass band. "It was nice to be able to do a bluegrass version of one of my songs, and I really enjoyed working with Lorraine on the project," Conlee said. "I understand it has gotten a lot of positive feedback since it has been out, and that is really encouraging to me." 
In addition to taking home both "Female Vocalist of the Year" and the prestigious "Song of the Year" at the Society for the Preservation of Bluegrass Music of America's (SPBGMA) 2015 awards and convention, Lorraine Jordan & Carolina Road have been riding high off of the momentum created by their latest album Country Grass. 
The band teamed up with country music's legends on Country Grass, as they re-recorded some of their biggest hits, but with a bluegrass twist. The star-studded project features collaborations with Crystal Gayle, Lee Greenwood, The Kentucky Headhunters, T.G. Sheppard, Eddy Raven, John Conlee and Marty Raybon in addition to the late Jim Ed Brown and Lynn Anderson.
Hard work has paid off for award winning Lorraine Jordan & Carolina Road. Having a dynamic show has earned them over 100 performances each year throughout North America at more than 60 major festivals. Carolina Road plays worldwide and hosts a national bluegrass festival, Christmas in the Smokies. They have hosted the Canadian Bluegrass Awards, toured Europe, and played 15 bluegrass cruises. Carolina Road's performance is a traditional sound with a fresh approach, which includes invigorating instrumentals, smooth blending vocals, and all the energy that you can stand! 
Lorraine likes to think of the band as a family, and her band members have longevity in the band. Ben Greene (banjo/vocals) "2015 Banjo Player of the Year" has been with Carolina Road for 11 years. Josh Goforth (fiddle/guitar/vocals), has also been with them for 11 years, and is a Master Fiddle Player Extraordinaire! He was a 2009 Grammy award finalist for the CD "Cuttin Loose". Tommy Long (guitar/lead vocals) has been with the band for 4 years. His outstanding lead vocals and driving rhythm guitar playing helps propel the band. Also, Jason Moore, much sought after bass player, will be touring with the band, and dobro player, Brad Hudson, who was a featured artist at the world famous Country Tonight's in Pigeon Forge, TN, and at the Legends Theater, in Halifax, NC.