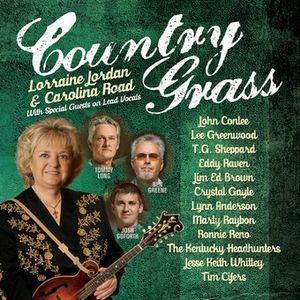 Bluegrass group Lorraine Jordan & Carolina Road are premiering their new, high-energy music video for "Runnin' Water," featuring the Kentucky Headhunters, exclusively for readers of The Boot. 
The "Runnin' Water" video was filmed in Kentucky at the legendary Practice House, and the concept is simple: It shows the groups rocking out on their respective instruments and having a great time jamming together, creating a welcoming, fun-loving, re-watchable feel. 
In addition to Jordan, who sings and plays the mandolin, Carolina Road features Ben Greene on banjo and bass vocals, Josh Goforth on fiddle and baritone vocals and Tommy Long on guitar and lead vocals. The quartet was thrilled to collaborate with the Kentucky Headhunters, who are ACM Awards and CMA Awards winners, for the song and video. 
"The first time I heard the Kentucky Headhunters' music, I was a fan," says Jordan. "The group was different than anything out there in the world of country music. Being from Kentucky, I knew they had bluegrass roots, but when they released "Walk Softly on This Heart of Mine," it showed me just what they could do with the music." 
While Jordan's band and their distinct sound already turn heads, combining with the Kentucky Headhunters brings a rich new feel to the catchy tune that is "Runnin' Water," with the Headhunters' Doug Phelps and Richard Young helping out on the vocals. 
"Runnin' Water" is the first single off of Jordan & Carolina Road's upcoming album, Country Grass, which also features John Conlee, Crystal Gayle, Lee Greenwood, Eddy Raven, Jim Ed Brown, TG Sheppard and more. 
Country Grass is set to drop on June 9, on Pinecastle Records, and was produced by Jordan and Goforth. "Runnin' Water" is available for download now via iTunes. 
https://theboot.com/lorraine-jordan-and-carolina-road-the-kentucky-headhunters-runnin-water-music-video/