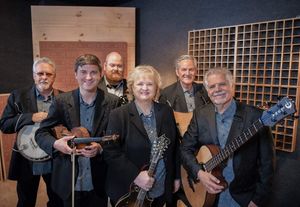 Lorraine Jordan and Carolina Road will be releasing their new album "True Grass Again" on August 10. She chatted about her musical project. 
On the song selection process for True Grass Again, Jordan said, "I was looking for songs that promoted traditional bluegrass. Songs that would have the three-part harmony and that would also lean towards twin fiddles, Monroe style mandolin, and Earl Scruggs style banjo." 
She listed "True Grass" as her personal favorite song from the CD, at the moment, due to the "momentum it's getting," as well as the "movement it is creating."Jordan was privileged to collaborate with the late country queen Lynn Anderson on a duet of "Rose Garden" prior to her passing. "Lynn was a hoot," she exclaimed. "She came in with her cowgirl hat and her boots on and she lit up the room. I was glad we could become friends before we lost her," she recalled.On her plans for the future, she said, "We are just going to promote True Grass Again. We just came off of the Country Grass, so now we're moving to True Grass. And then when I leave that, I'm going to start on a project called Patriot Grass, where we can do some patriotic songs."Digital transformation of the music businessOn the impact of technology on the music business, Jordan said, "The CD sales are down. I like to buy CDs myself because I like to hold them in my hand and look at the pictures and everything. I think you kind of lose the closeness when you buy online versus a CD you can have."On her use of technology in her daily routine as a bluegrass musician, Jordan said, "I use Facebook to market the band and have a website. We do Google calendar and a lot of things that really help support our calendar and marketing of the band."In the duets department, Jordan feels very fortunate since she already accomplished that with John Anderson. She also noted that Randy Travis is another favorite artist of hers.For their fans, she concluded about their new album, "I think that it's a song for the times. I think that bluegrass is really changing, and anybody with a banjo in their band thinks they can call it bluegrass. I don't think that's fair to do to the music. I think we need to keep the music true and we don't need to take it too far from its roots because it's a sacred music."True Grass Again is available on iTunes, and on Spotify.To learn more about Lorraine Jordan and Carolina Road, check out their official website. 
http://www.digitaljournal.com/entertainment/music/lorraine-jordan-talks-new-album-true-grass-again-lynn-anderson/article/529184#ixzz6GKLukyWS