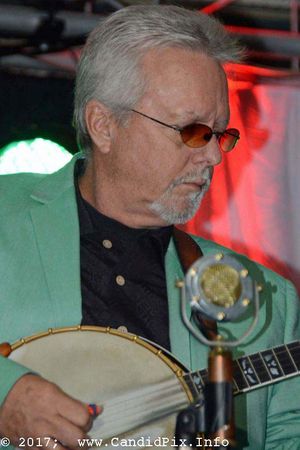 Ben Greene grew up in the piedmont of North Carolina, and resides in Monroe, NC. He's a great banjo player with quite a background in the world of bluegrass. Ben started playing guitar when he was 12 years old and soon after became interested in the banjo. His professional career began when he started playing with Frank Poindexter and the Appalachian Musicmakers, which eventually led him to playing with Charlie Moore, Leon Morris and Curley Lambert. Interestingly enough, he then took about a 15 year hiatus from bluegrass to play electric guitar with country bands. He returned to bluegrass in the 1990s, first playing electric bass with the Bluegrass Cardinals, and then banjo with Junior Sisk, Lost and Found, David Parmley, James King, and for the past 14 years with Lorraine Jordan & Carolina Road. In 2007, Ben recorded a banjo instrumental album titled, "On Watson's Cove," and in 2010, his most recent album, "Banjo Sideman." Ben was a nominee for SPBGMA's Banjo Player of the Year in 2008, 2009, and 2010, and was finally awarded it in 2015. I believe his time spent playing country music on electric guitar definitely influenced his unique banjo playing style and I found his perspective on playing bluegrass banjo most interesting and informative. 
Greg Cahill: So here I am with Ben Greene, who plays with Lorraine Jordan and Carolina Road. How many years have you been with her? 
Ben Greene: Going on fourteen years. 
BNL: Wow. That's fantastic. 
BG: I know. I'd never been in a band more than four years until I got with Lorraine. 
BNL: So can you tell us a little bit about that, because I love your playing, it's so tasteful and right on the money. 
BG: Well, I'm one of your biggest fans too, whether you know it or not. You've got that solid tone in your back-up, you always sound so darn good. 
BNL: Well that's what I think about you. So how did you connect with Lorraine? 
BG: Before I got with Lorraine, I was playing with James King for about three years. And he was playing so much, three times a year in California, in a van, just driving straight out there, switch drivers, and it was getting pretty weary, you know? He was so busy, I was wanting to make a change. And Lorraine had a bus, which was pretty appealing, to start with. And I'd heard of Lorraine but didn't know much about her. But I met her at a festival, and I told her if a job opened up I might be interested. And about the time I was ready to leave James—and I gave him a good notice, I'm not one of those guys that leaves you hanging, you know—she contacted me and said she was making a change in banjo players. So we met up close to my house and she went over her rules and whatnot, and that's how I got up with her. 
BNL: You know, I love hearing the way you play, and your back-up as much as your solos. You really play to suit the song. 
BG: You're probably the same way about back-up. I enjoy playing back-up as much as I do a lead, because you're complementing the singer. Back in the 1970s when I played with Charlie Moore, that's who I started traveling with, he told me, "Look, when I'm singing, I'm telling a story, and if you can't hear what I'm saying, you're playing too loud." And that taught me about dynamics. You know, fill in the holes when he wasn't singing, that sort of thing. He taught me a lot about all that. 
BNL: That's a good way to think about it, because that's exactly what's happening. And for some players, its easy to get caught up in the playing, and you're hearing the melody… but you're not hearing the words… It's easy to stray from what you're saying. 
BG: I think a lot of players just listen to themselves, they don't listen to the overall sound. And that's why you have some bands that don't really have dynamics, everybody's just playing as hard as they can all the time. And the magic to me is dynamics. And if one person isn't doing the dynamics, it takes away from the whole band. 
BNL: That's so true, it only takes one to not be with you. So let's go back. When did you start playing? 
Here is Ben Greene's Mean Greene from his solo recording "Bluegrass Sideman": 
BG: I was about twelve years old when I started playing guitar. I had a cheap guitar; my father told me if I learned to play pretty good he'd get me a better one. And he had an old banjo in the closet that he'd bought years ago—the fifth peg was gone. We got it out, and got it to where it was playable, and he said the same thing, if I learned to play, he'd get me a better banjo. So I learned to play Cripple Creek, Cumberland Gap, you know, the basic starter-out tunes. And some of these younger players, they'll start out with different tunes, they don't start out like you and me did. We started out with Scruggs, they'll start out with music from more recent bands—which is fine, you know. But you need to go back, I think, and learn from the masters, instead of starting with someone playing now and just going forward. I mean, there are a lot of great players these days, but you need to go back to the roots. That's what I did. And eventually I got a better banjo. 
Here is Ben Greene's Spanish Twin from his solo recording "Bluegrass Sideman": 
My first professional job, where I was making some money, was with Frank Poindexter and the Appalachian Music Makers, and Terry Baucom was in that band, playing fiddle. I was about fifteen. But the first band I really traveled with was with Charlie Moore, from 1973 through 1979—though not actually continuously. I would quit a while, then he'd want me to come back. I think I recorded six albums with Charlie. You know back then, some of those entertainers might have trouble paying you, give you a hard-luck story, like some of them do today, so I'd quit, then I'd go back. But Charlie taught me a lot—about back-up and so much else. But like Blue Highway, bands like that are so tight. The ones that get on stage and sound like a record. That's what they do, I think—they listen to each other… 
BNL: …and listen to the band sound. 
BG: You know all this. I'm preaching to the choir. But other people might not realize that. 
BNL: So when you started playing, who were some other banjo players you were listening to? I know you mentioned Earl. But you else did you listen to? You have a distinct style. I think of you as having great tone, a driving player. But you have these little twists and things you throw in there. 
BG: Who really inspired me back when I was so hungry for it, when you go to sleep with your banjo in your arms… Bill Emerson. I used to love his… finesse. When the Country Gentlemen were four pieces: Waller, Yates, Emerson and Lawson—that particular Country Gentlemen band, the way they would play, the music sounded so free, nothing was rushed, they'd come up for the chorus and they'd play a few extra bars for rhythm, then they'd come right in perfectly together. And the little finesse things he did, really caught my ear. 
And then I might have got a little more serious into Scruggs after that, but for a long time, Emerson, I thought he was cock of the walk. 
BNL: Well I feel the same way. And that particular foursome, that really was when the Country Gentlemen came to be known for their smooth sound. It was just like butter. And Bill just turned 80. 
BG: When everybody's on the same page, everyone's paying attention, and the music's jelling, and you're using dynamics—its just hard to beat. Like Crowe. When he had the four-piece band with Larry Rice and Doyle on guitar… 
BNL: and Bobby Sloan on bass. Yeah. 
BG: That four-piece band captivated my ears. 
BNL: It's the same thing we're talking about: the flow of the thing. And they could play faster than you could imagine, or a slow song, and it was all just right. 
BG: And my way to looking at music is, the bass is the most important instrument in the band, because if ain't right, your foundation ain't right, and you can't build on it. But if you got a good bass player, consistent, steady, your other players don't have to be all that hot, you can still have a good thing. But if the bass player is not consistent, you're in trouble. 
BNL: It's the heartbeat, right? Now if you sitting down to make UP a song, do you start thinking chords, or melody? 
BG: Probably chords. I never thought about that. I've got four original instrumentals I've written, and I'm probably first off just coming up with the chords. The pattern. Maybe I'll take two chords off of one song, and two off of another song. Trying to figure out a way to combine them, to make something different. How do YOU do that? I'm curious. 
BNL: You know sometimes its both, you know? Quite a few of the songs I've written are chord changes where I'm going up or down in pitch, like a walking line. And other times, I'll have a melody in my head, and just try to figure it out. 
BG: I might start with a riff, or run, something that's super comfortable for me to do. And let that sort of be the main basis. Something I can always come back to, and never miss. Then kind of build around that. I've written a couple of tunes like that. 
BNL: So we're thinking along the same lines. 
BG: I like to do something that is comfortable for me, and not something that I'll more than likely miss. [laughter] 
BNL: Right, sure! And I really like your fiddle tunes that you do with Josh. You mail the back-up, and backing up the fiddle is a big thing. So I think you're basically Scruggsy, but you intersperse it with the different runs. It sounds like you've listened to all of it. You've got a melodic thing in there sometimes. 
BG: I used to study the melodic stuff. I don't use it much any more, but sometimes its what is called for. Like we played a show at the Ernest Tubb Record Shop, and we played with Eddie Raven, and his songs are country that we turned into bluegrass, and I used a lot more melodics than I do on the standard stuff. If you get away from melody on a standard song, it kind of takes away from the song, but if you take an Eddie Raven song like Who Do You Know in California, you can just do a melodic riff through a lot of that. Especially on the backup, works really good. 
BNL: It's a different way to do embellishments… 
BG: What I've decided to do now is, taking a break, or kickoff, when I play the melody, I try to make it sound like the words to the song, I just focus close I can to the melody, but on backup, it can be optional, you can put in a chromatic run, or whatever, if it fits the song. But you have to discipline yourself, because it's tempting to go into a big chromatic run. For me, playing the melody is more difficult than doing a big long scale. And it took me several years to figure that out. When I was with Charlie, I'd take a break with nothing but chromatic runs. Listening back to it later, after I got older, I thought what in the hell was I trying to do? Play every note I knew in one song? [laughter] It's a discipline thing, you know? 
BNL: I had that experience too, that's why I'm laughing. It's that thing called taste, right? Start leaving the stuff out, more than trying to put more stuff in. And it sounds better. 
BG: Well I've heard you play all kinds of styles, so you know exactly what I'm talking about. You've got several different ways you can play a break. Depending on what fits the song. 
BNL: That's the key right there. So what are you playing? 
BG: Right now, I've got four banjos that I alternate when I need to. They include my Hatfield Celebrity model, and my Gibson double aught. The Hatfield (www.hatfieldbanjos.com) has a curly maple tone ring—I took out the metal ring and switched it with this. And the double aught has a wooden tone ring as well, and both banjos are about 3 or 4 pounds lighter than a regular banjo. I also have a 1928 Granada, and a Davis (www.davisbanjoandinlay.com) banjo, both really good banjos. It depends on how my back is feeling, on which one I'll play. 
BNL: I don't think I've seen a double aught. How'd you come across that? 
BG: There's a guy named Don Bryant in Elkin, he works on and builds instruments, and I told him I was wanting a lighter banjo, cause I've been having some back issues. And he said he had a double aught, which was a 4-string that he made a 5-string neck for. So I ended up getting it—and I'm getting by with it fine. When I come off stage my back don't hurt a bit. And I still have the heavier banjos that I can sit down and record with. But for stage, that's what I use, that, or the Hatfield. 
BNL: And now there's so many folks playing banjos without tone rings and they sound great! Now what strings do you use? 
BG: We have an endorsement with GHS. And my set is two tens, eleven, twelve, and twenty. I used 13's for several years, but now I'm using the twelve. 
BNL: That's the Crowe stage set, I believe, I was using that. How about picks? 
BG: I've got two old Nationals, and a Golden Gate multicolored thumb pick. What do you use? 
BNL: I'm real similar, I've got a few old Nationals, and I've got a few left for as long as I'll be playing. And now I'm using a Blue Chip thumbpick. 
BG: Man I'll tell you what, those Blue Chips have the best tone I've ever heard! They're great! But I tried one one time and didn't have it long enough to get used to it, I only used it for a song or two. 
BNL: That's what got me, but it's a little different, the angle on it. So when I first tried one, I wasn't getting used to it, and then we were playing Bean Blossom, and JD was in the back room, picking, and I asked him about it, and he said, yeah, you've got to give it a little while, he had to use it a couple hours a day just to get used to it. But I like that tone. 
BG: I didn't give it enough time. 
BNL: So you have any new recordings? I know you recorded the thing with Eddie Raven pretty recently, with Lorraine, right? 
BG: Yeah, that's been a couple of years. We have a CD that's just been released. It's called "True Grass Again." Title song is Why Can't Bluegrass Be Truegrass Again. And Randy Graham has joined us, playing electric bass, and he's got good timing. And he's a great singer. And the CD turned out pretty good. And Tommy is back with us, singing. 
BNL: So who are you listening to these days? Banjo pickers? Bands? 
BG: The ones that I was inspired by, Crowe and Osbornes, and Scruggs and Emerson. I tell you, the best music I've heard recently is the Earls of Leicester. I like the heck out of that. 
BNL: They're nailing it, right? And Charlie Cushman, what a picker. 
BG: That kind of stuff inspires me, because its old school. And its done so well. 
BNL: So do you have any advice for beginning pickers? Say someone who's just starting out, could you save them any time with some tips? 
BG: I used to teach a bit, and I used to stress, it's your right hand that makes the sound. I mean, you can put your left hand all over the fretboard and you're not going to get a sound out of it. Unless you play like some of those crazy hammer-on people, you know? But your right hand, get your right hand trained before you ever add your left hand. Do all your rolls, for a week or two, until you get so comfortable you can look away, then add your left hand. A lot of people want to play a song the first day. Well, you can't learn the roll and the left hand at the same time. Just can't do it. 
BNL: Do you use a metronome? 
BG: I think that's a great idea, that would help with the timing of course. I don't do it like I should. I don't know about you, but I don't practice a whole lot like I used to. When you play enough, you kind of keep your chops up. But I get my banjo out sometimes, or leave it setting out. Maybe I'll just play along with the theme song to Sanford and Son, or something. I like to play along with that kind of funky stuff. Especially when the cow bell comes in. And see, I played guitar in country and country rock bands for fifteen years, and we played all that kind of funky music. So I've got that in my blood too. 
BNL: And when was all this? While you were playing banjo? 
BG: Charlie passed away in 1979, and after that I played with Curly Lambert, and with Leon Morris, up around D.C.. The country rock would have been after that; I did it for about fifteen years. And when I started back into bluegrass in the mid 1990s, I first played electric bass with Bluegrass Cardinals, and then banjo with Junior Sisk for about a year, Lost and Found for four years, David Parmley for three years, and James King for three years. I recorded one project with Parmley. And I did one with James King, "The Storyteller." 
BNL: Well you've played with everyone! And I bet you learned a lot of stuff, playing country rock. You learn a different perspective. 
BG: Yeah, I might hear different things in my head that someone who played only bluegrass. But that country rock was almost another lifetime at this point. 
BNL: And how many recordings have you done with Lorraine? 
BG: I'm going to guess at least ten, maybe more. For a long time we did one every year. We're on Pinecastle at this point. And you know in 2015 I won the SPBGMA Banjo award; that was quite an honor. And also that year we won Song of the Year with Hatch, Kentucky. And Lorraine won Female Vocalist.